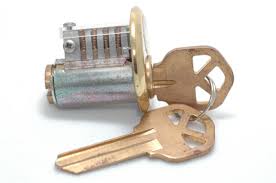 We understand how nerve-wracking it can be to choose a locksmith out of the hundreds of results from a quick google search.
Consider that stress a thing of the past, because Safety First Locksmith has your best interests in mind.
Our return rate is nearly 100%  because we always go above and beyond for our customers by being available 24/7 year round, as well as offering fair rates and high-quality service.
What is Re-Keying?
A rekey service is when a locksmith removes the cylinder and tumblers from a lock to either perform a repair or change a key shape without replacing the entire lock.
This type of service may be needed for repairs, or perhaps after a roommate moves out, and you wish to change the shape of your key.
Re-keys are also useful when you lose your keys and need a new one made from the existing tumbler pattern.
Faulty Locks
Locks and tumblers are known to wear down and stop working properly over time.
Do you have a lock or deadbolt that you have to give a little jiggle to in order to turn the key?
If so, you probably need the lock rekeyed for repairs.
A locksmith will remove the lock mechanism and replace the tumblers as they are, not changing your shape, but making your lock system work like new.
You Can Count On Us!
You may ask yourself: how, exactly, do we put our customers first?
The answer is simple, we try to make the process easier for our clients by keeping them in the loop.
This is to ensure that no customer is confused throughout the process, and everybody is on the same page.
We also offer our services around the clock 365 days a year.  Our company knows emergencies happen at any time, and you need a reliable locksmith on when they do.
We Take Pride in Our Service
Safety First Locksmith takes pride in knowing we do the very best we can to please our customers.
From our efficient services to our incredible prices, our company is the best locksmith service in Buena Park.
Don't hesitate to give our 24-hour service line a call today!